Lieutenant General William Kenefick Jones
---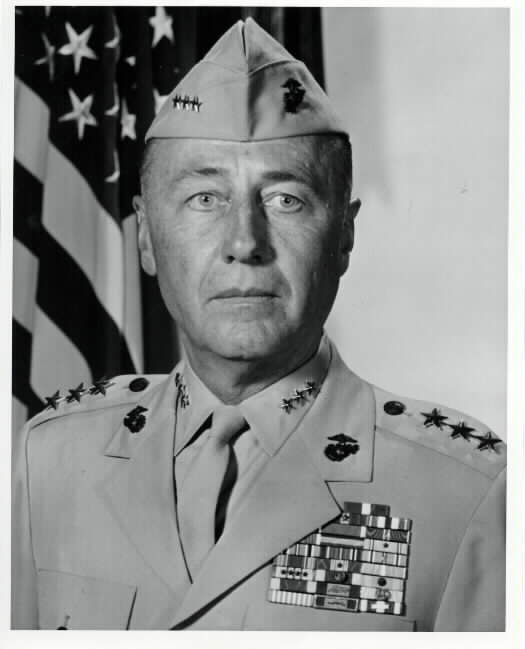 The name sake for the KU MASC is that of Lieutenant General William K. Jones, known irreverently and affectionately as "Willie K." by a host of Marines, was born in Joplin, Missouri. He graduated from the University of Kansas in 1937. While attending college, he enrolled in the Platoon Leaders' Classes in San Diego and was commissioned a Marine Reserve second lieutenant in January 1938. He came on active duty in December 1939 and became a regular officer the next year. Upon completion of Reserve Officers' Course at Quantico, in November 1939, he joined the 1st Battalion, 6th Marines, (1/6) with which he was to serve for nearly 6 years throughout the Pacific War.
His initial assignment was as a platoon leader with Company B, 1/6, which was then a component of the 1st Provisional Marine Brigade. In May 1941, the unit was deployed to Iceland to help defend that country from the threats of a Nazi invasion. When he returned to the States in March 1942, 1st Lt and then Capt. Jones became first the 1/6 adjutant and battalion personnel officer and, later, its operations officer. It was in these billets that he participated in the Guadalcanal operation. As a major, he took command of 1/6 and led it in the amphibious assault of Tarawa on Nov. 20, 1943. During rehearsals for Tarawa, 1/6 practiced landing from rubber boats, thus earning Jones the title of "Admiral of the Condom Fleet." For the actual landing, 1/6 Marines were carried toward their assigned beach by LCVPs towing their rubber boats. At the reef line, they transferred to the boats and began a 1,000-yard paddle to Green Beach. Once ashore, Jones' Marines began a drive down the island under heavy enemy fire. For conspicuous gallantry and intrepidity on the night of 22-23 November, Jones was awarded the Silver Star Medal. When two of his companies became separated by the first of several Japanese night attacks, he organized a reserve from his mortar platoon and headquarter and personally led a "brilliantly executed" counterattack ejecting the enemy and closing the gap in his lines. Maj. Jones earned not only the Silver Star in the fight for Tarawa, but also a field promotion to lieutenant colonel before he was 27 and thus reputedly became the youngest officer of that rank in the Marine Corps.
Saipan was the next campaign. Jones' battalion was subject to intense fire during the landing on 15 June, and three of his companies landed out of position on three separate beaches. Lt. Col. Jones proceeded from unit to unit to reorganize and redirect their disposition. On the night of 16 June his battalion bore the brunt of a Japanese attack in which 24 Japanese tanks were destroyed. After 25 days of bitter fighting, Saipan was secured and preparations began for the 24 July shore-to-shore landing on adjacent island of Tinian. For his heroism on both Saipan and Tinian, Jones was awarded the Navy Cross. Later on, Lt Col Jones also participated in the Okinawa campaign when the 2nd Marine Division was deployed to the island from Saipan.
Jones returned to the States in July 1945 for a series of postwar command and staff assignments. In this period he wrote a series of articles for Marine Corps Gazette under the pseudonym of "Base Plate McGurk—Company Officer." In the foreword to a published paperback containing his articles, which essentially were tips for young company-grade officers on such matters a morale, discipline, leadership, and esprit de corps, he wrote: "Napoleon once said 'There is no strength without skill.' To me, this means that even though we know the principles, which are so ably set forth in our field manuals, this knowledge is of little value unless we also know how to put these principles into effect. Therefore, this book is concerned with 'the ways and means,' the object being, of course, not to set forth the way or the means but rather to show a way or a means." What he wrote in the 1940s still holds great value for the junior officers of today's Marine Corps.
He was promoted to colonel in 1952 and was assigned to command of the 1st Marines in Korea in early 1954. In December 1965, as a brigadier general, he was sent to his third war. His assignment was duty as director of the Combat Operations Center of the U.S. Military Assistance Command in Vietnam. He was promoted to major general in November 1966 and returned to the States for duty at HQMC. When reassigned to Vietnam, he assume command of the 3rd Marine Division. In 1970, he received his third star and became commanding general of Fleet Marine Force, Pacific. He retired in September 1972 after 33 years of continuous active service.